Duplicity:
3 out of 4

Julia Roberts and Clive Owen are electric together. They have great chemistry, but the real intrigue comes in how this chemistry is exactly created. It's sexual, yes, but strangely enough, the sexual interest comes in the fact that neither of their characters can ever tell if the other is lying. Deceiving and double-crossing has never been this sexy. Julia Roberts plays Claire, a CIA agent, and Clive Owen plays Ray, an MI6 agent. The two of them meet and sleep with each other in Dubai, and from there they enter the private sector working undercover for opposite ends of corporal giants. They hatch a plan to acquire the formula for some top secret project being manufactured by one of the companies, exploit it for themselves, and cash in on millions to split. "Duplicity" is perfectly titled as there is an endless amount of twists and turns full of cheating and scheming. After 2007's Best Picture nominee "Michael Clayton," writer-director Tony Gilroy takes his second feature in the comedic direction. You can tell he's having fun here, and as a result, the movie itself is just a lot of fun.
The title sequence alone is worth the price of admission. The chief executives of two major corporations, Burkett & Randle and Equikrom, start going at on a wet-soaked airstrip between their two private jets in the pouring rain. Their vice presidents and other colleagues stand on the sidelines and begin to intervene, letting their umbrellas blow away in the wind. The sequence is done in slow-motion with James Newton Howard's score pumping away, and it perfectly sets up the rest of the movie. The executive of Burkett & Randle is played by Tom Wilkinson (a large departure from his tormented role in "Michael Clayton") and the executive of Equikrom is played by Paul Giamatti. Both of them are cartoon character additions who add to the frivolity of the entire ordeal, especially in considering the product that is being kept under such life or death secrecy. And while portions of the film borderline dark screwball comedy, there is a certain level of white knuckle tension throughout.
And as would be expected from Tony Gilroy, the script oozes with sophisticated wit that works for the adult crowd. There are actually two movies to watch here: one about romantic intrigue and another about the intrigue of power. And whichever side of the story you find yourself focusing on more, both deliver in their own separate fashions. It creates for a film that could only be considered a romantic thriller that has surprises that don't end until the very final moment. Along with the excellent musical score, the movie is also great to look at thanks to cinematography from Robert Elswit who worked on "There Will Be Blood." The look and sound of this movie alone is something to savor.
This is a movie that continuously plays around with the idea of being fooled and having fun while doing it. "If I told you I loved you, would it make any difference?" Claire asks Ray. "If you told me, or if I believed you?" he responds. It's a dangerous game the two of them play, which makes it all the sexier between them. There are flashbacks to their previous encounters to further flesh out the dynamics of their relationship to find out whether it's based more on business, love, or lust. Each of the flashbacks brings us closer to the present as we continue wondering and second-guessing who is getting played or if their allegiance is actually rooted in sincerity. Such intricacies of the relationship are deftly handled by Clive Owen and Julia Roberts as they've worked together previously in "Closer." A lot of high production values seem to have gone into the making of "Duplicity," which ultimately comes off somewhat as light entertainment. It's really well-made light entertainment. At any rate, it's just great to see Julia Roberts back at it again.
Trouble the Water:
4 out of 4

"Trouble the Water" is not only a documentary about Hurricane Katrina but also a documentary about the American life and the power of kindness and humanity in the face of insurmountable devastation. This is a powerful and astonishing film that puts a face to the tragedy of Katrina beyond mere TV coverage. Real people and real lives were affected in the massive storm's aftermath, and this film presents immediate emotional response from one family, a family whose reactions encompass the entire nation.
Kimberly Roberts, a woman living in New Orleans' Ninth Ward, supplies footage from a handheld video camera before and after Katrina strikes, and most remarkably, even during. There's a tension and urgency to her eyewitness footage of the storm ravaging through her neighborhood as she and her neighbors hole themselves up in the attic as the water keeps rising around them. And it's a stroke of irony when this footage is interlaced with what TV news stations had to offer at the time. A stark contrast, indeed. In this respect, the film provides a perspective on Katrina that would otherwise never be seen, which makes viewing this documentary essential. It has the pull of great drama, except here, the drama is real life.
We follow Kimberly and her husband, Scott, as they're forced to deal with shocking government incompetence. Take this moment, for example: a Navy base is being closed down that could have been used ideally for refuge. It's a housing unit that holds beds where people could sleep with a roof over their heads, but meanwhile, the gates are locked, and people are turned away by gunpoint. And even through such, Kimberly and Scott remain positive throughout their experience and eventually head back to their hometown in New Orleans.
Some of the reactions to Katrina we see by professionals are infuriating. There's an interview with a woman who runs a hotel aimed at tourists to New Orleans. She's pleased with the fact that the tourism parts of the city are perfectly intact. And yet, we get a long take simply driving down a street of the city where there is unspeakable damage. There is no narration accompanying this shot because the scene speaks entirely for itself.
Kimberly Roberts is an aspiring rap artist, as well, who performs one of her songs for the camera. It is a moment startling in its impact and also a moment that understandably received a standing ovation at the Sundance Film Festival last January. Her lyrics strike a chord for the situation of Katrina, and her performance speaks directly to the power of the human spirit.
12th Annual East Lansing Film Festival Exclusive:
The Tower:
3 out of 4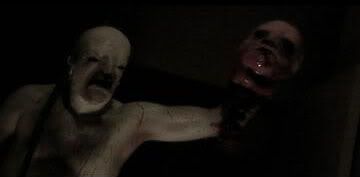 What's so neat about "The Tower" is that it was entirely filmed in Detroit. It tells the story of a long abandoned tower in the heart of what the synopsis so slyly refers to as "a city in turmoil." Perhaps it's just me, but the commentary on Detroit I feel was a little more than subconsciously done. Even though the tower is stripped of all electrical power, there still remains a glowing light at the top of the tower that intrigues a man named Doug. He ends up investigating the tower becoming obsessed with it to the point where he ends up entering one night. His sister, Lucy, begins to worry about him when she receives a voicemail from him telling her that he's heading inside. And so, she follows him inside after having a dream that convinces her he's still alive and trapped within the tower.
This horror film is only contemporary in its storytelling in that we've all seen a story of going after somebody stepping directly into known dangers. All other aspects of the film can be considered strictly experimental from the shooting style to the astounding special effects for a lower budget feature. The way in which Lucy's journey through the nightmarish tower unfolds reminded me of a David Lynch feature, which is the highest compliment I can give. Lucy not only faces terrifying otherworldly creatures as she makes her descent, but she also faces the deepest realms of her own consciousness.
The movie does have its fair share of gore, but it's never gratuitous and works to actually create terror rather than just shock value as in contemporary horror flicks. What starts off as a psychological journey begins to take a grossly physical form with the presence of such gory manifestations within the tower, which heightens the tension throughout leading to a strangely satisfying ambiguous ending. "The Tower" is scarier than any other Hollywood horror movie in recent memory.