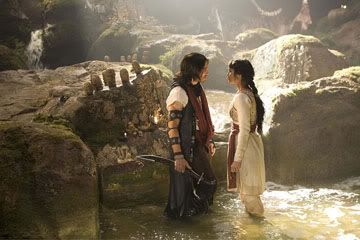 "Prince of Persia: The Sands of Time" (2010)
Strictly viewed as a video game adaptation, "Prince of Persia: The Sands of Time" succeeds just fine. The dagger is put to good use and integrated well into the story. You fill the dagger with magical sand, push a gem on the hilt and suddenly you are traveling a minute back in time. The effect looks cool with flowing, swirling gold sand. It doesn't happen frequently, though. But how could it? If you keep pushing the button, things get boring because nobody will die, and you'll run out of that sand anyway. The acrobatics are all there from the game, but again not as much as maybe we'd like. Even still, as far as video game adaptations go, it's better than the rest.
As far as being a movie on its own and trying to live up to the expectations of being the next "Pirates of the Caribbean" franchise as a Jerry Bruckheimer production based on something hokey (this time not an amusement park ride), it fails in every respect and had me wincing in embarrassment. The movie is helmed by director Mike Newell who tackled "Harry Potter and the Goblet of Fire" with more ease than he does here. He can't find his way around an action sequence without it being completely mind-boggling and disorienting. The CGI gets in the way in most instances as Prince Dastan (Jake Gyllenhaal) flips around disposing of his enemies. The enemies also all look the same, all turbaned in some way either shooting arrows or throwing knives. The color palette is brown, tan, gold and maybe some variations of that. The movie is the same all the way through, a rollercoaster ride without any drops, and it's downright ugly not only in its look but style.
Jakes Gyllenhaal plays Dastan how he should and adds nothing else to it. He's rightfully buffed up sporting long hair and Persian robes and garb. He cracks his one-liners, has his smart remarks, gets angry at enemies and charms the lady but all of it feels mandatory, never organic. Nothing about "Prince of Persia" is such. There's the Alamutian princess Tarmina (Gemma Arterton) who takes her job of protecting her city of Alamut and the magical dagger seriously. When she and Dastan embark on their quest together after realizing their motives turn out to be the same—of course they do—they bicker, just as they're supposed to do, and then they gradually—as if simply by their circumstances—fall in love, just as they're supposed to do. Nothing additional is created by either of these actors to aid the flatness of their characters. There's no chemistry, no fun, no wit, no charm. And at least let there be an ounce of sex appeal. Gyllenhaal goes shirtless only once briefly; all that working out for nothing. And that kiss the two leads finally share is painfully lame.
The villain is played by Ben Kingsley who played a more menacing villain, who turned out to not actually be a villain, in "Shutter Island" earlier this year. He wears black eyeliner, so that makes him scarier. He is Navim, Dastan's uncle who calls for the attack on the city of Alamut. Reasons for the attack are muddled, mixed around, jumbled, spun, twisted and turned, and while there are about three fake villains and one additional assassin villain who resembles Lord Voldemort, it is Navim who is the bad guy. Just so we're clear. I didn't give anything away; Kingsley is the one on the movie poster, not the others.
The magical dagger becomes important in that, if put in the wrong hands, it can end the world and destroy all of mankind. Even with such an imposing sense of doom, nothing about Dastan and Tarmina's journey escalates to any sort of importance or epic scale. There's falling, there's yelling and shouting, running and fleeing, but to what ultimate purpose? The journey is surprisingly boring for all that's going on, and in this sense the movie comes off as desperate. The excitement and emotion picks up for a moment during a big underground set piece, but even that is lackluster.
And you can't forget the obligatory character of comic relief. This time it's Alfred Molina as Sheik Amar, a wild-eyed Persian with a fetish for racing ostriches, finding gold and evading taxes. When this guy gives the most charisma out of everyone in the movie combined, you know you're in trouble. "Prince of Persia: The Sands of Time" is not the next "Pirates"-like franchise. When meant to be light blockbuster entertainment such as that, it doesn't work when Molina is honestly the best you get. The rest is a self-serious trudge through the desert.