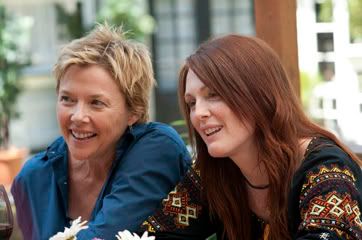 "The Kids Are All Right" (2010)
This is more than just a love letter to gay marriage. It is a love letter to the modern family and to contemporary life with all of its hectic messiness. Lisa Cholodenko's film "The Kids Are All Right" stars a family that certainly could be called unconventional: a lesbian couple with two teenage kids who were conceived through the help of an anonymous sperm donor. This type of family, though, is not really so uncommon and goes through issues that are anything but unconventional. Here's a family that is so not out of the ordinary that writer and director Cholodenko ("High Art," "Laurel Canyon") and her co-writer, Stuart Blumberg, make it a point to show this family as unglamorous, routine and unexciting. Touching on the most basic thing like the vulnerability of any family unit, they are blurring the lines between specialized content and universal content with such sly precision that you don't even notice it is happening.
The premise places Nic (Annette Bening) and Jules (Julianne Moore) in a gay marriage so nonchalantly that it practically erases any cultural or ideological contention over the issue there is in the real world. They live in a suburban area of southern California with their two kids, the 15-year-old Laser (Josh Hutcherson) and the 18-year-old Joni (Mia Wasikowska). They live in a spacious home and drive around a Volvo. Nic is a driven doctor who takes her career seriously and puts the same amount of concern toward her children which turns to constant worrying. She's not purposely smothering or controlling, but she can come off that way. Jules has been floating in between jobs but recently took an interest in starting a landscaping business. She may be a little flaky, but she's caring and free-spirited. They are comfortable and content with each other but sometimes burdened by parental responsibility, they on occasion become confused or frustrated by the other. As you can see, they are normal.
Their relationship is a tough one to describe simply because it feels so richly authentic and dynamic as you're watching it. The film's writing is so smart about all of its relationships that it is sexy, hilarious and heartwarming without ever overdoing any element for comedic or emotional effect; it just is. There are moments that are also refreshingly self-satirizing because, in considering that we're meant to be empathizing with these characters, they all have faults that are worth a little mockery.
As Nic, Annette Bening is remarkable. Tapping into who she already is gives her dramatic prowess in this role that cannot be matched. She is firm, intelligent, brash, emotionally expressive and always sipping on a glass of red wine. Julianne Moore plays Jules, and her performance is equally as perfect in slowly unveiling the character's imperfections. The two marvelous actresses almost effortlessly evoke a marriage that has taken the test of time again and again where they simply get each other with all of the hidden meanings, the cold silences and each other's comic timing of which they're so familiar. Paired together, both of these women deserve Oscar nominations.
The meat of the movie's plot comes from the children, Joni and Laser. Joni is heading off to college soon, meanwhile Laser is interested in getting in contact with their biological father, the sperm donor. The man's name is Paul (Mark Ruffalo), and he is far detached from any family scene in his life. He has a carefree attitude, rides a motorcycle and tends to an organic garden for his restaurant. His initial meeting with the kids sparks something in them, a desire to see him again. And so he enters into not only the kids' lives but Nic and Jules', too, and begins to unintentionally dismantle the family, the very one he helped to create. That's all you'll get from me because the joy is in watching how Paul's integration into the family unfolds.
"The Kids Are All Right" is the type of film that is easy to love, one that allows its actors to latch on to a good story and really dig in. Apart from Bening and Moore, the young Mia Wasikowska of this year's "Alice in Wonderland" and Mark Ruffalo deliver some exceptional scenes. And the film's very best scene comes from Bening's Nic who, during a small dinner with everyone, realizes something awful but keeps it buried deep within as all sounds around her go faint emphasizing her inner turmoil. The movie is full of astonishingly truthful insights such as this one, and it comes from watching these five people sort through the meaning of family ties. It is pure delight, but also something larger. Upon a close look, it is also strongly political, but for being such, it comes off as breezy as could be.