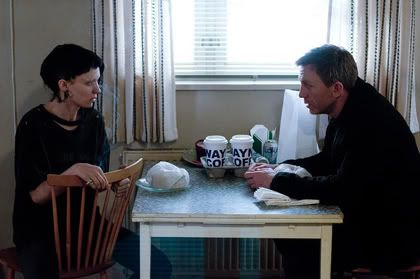 David Fincher's "The Girl with the Dragon Tattoo" begins with an opening credit sequence that's a jolt to the senses. Karen O's menacing cover of Led Zeppelin's "Immigrant Song" plays to figures dripping in black, disturbing yet provocative images of evil, a psychedelic and haunting anthem for the film's start. This opening gives Fincher's adaptation of the first entry in Stieg Larsson's internationally bestselling "Millenium Trilogy" a signature mark from a master director -- the one detail the 2009 Swedish original from director Niels Arden Opev lacked.
Neither version is better than the other, but each one definitely has a different feel. Fincher has an artistic eye behind the camera, an apparent love for all things grunge and gritty. This marks the director's return to pulpy crime noir such as "Zodiac" and "Se7en" after the likes of "The Curious Case of Benjamin Button" and "The Social Network." And it's a clearly welcome return as Fincher infuses the already established story with his own style and cinematic flourishes. The movie is better looking than the Swedish original thanks to cinematographer Jeff Cronenweth who also worked on "The Social Network." But it's more than that -- Fincher and his screenwriter Steven Zaillian don't try to copy the original or reinvent it, and they certainly don't ignore it. They take an already established framework and add nuances both visually and emotionally.
The biggest draw of this story is, of course, the ambisexual gothic super hacker Lisbeth Salander. She's played here by Rooney Mara, an actress who stands up to the challenge and exceeds expectation. For one, she has the look down. With short, choppy black hair, gaudy piercings, scar-like tattoos, a pale complexion accented by barely-there eyebrows and an expressionless glare, Mara nails it. She had some big shoes to fill following just a year behind Noomi Rapace, but she is perfectly comparable with subtle differences. Mara's Lisbeth is more a feral animal always looking out for predators. She can sink her teeth into something if necessary, but there's that added layer of fragility and vulnerability that Rapace's Lisbeth lacked. Mara manages to capture even more complexity and creates a Lisbeth Salander all her own.
Immediately following a defamatory article in Millenium magazine written by Mikael Blomkvist (Daniel Craig), he gets slammed for libel sending him into recluse. The timing couldn't be any better when he's contacted by a representative of Henrik Vanger (Christopher Plummer), the eldest of the large Vanger family clan. Mikael treks out to the secluded, wintry island owned by the Vanger family to hear about the disappearance and suspected murder of Henrik's 16-year-old niece. It's an unsolved case that has haunted Henrik for 40 years, and he hires Mikael to find Harriet's killer under the guise of writing his memoir. Henrik figures Mikael could use the time off from Millenium.
The procedural of uncovering new information on the cold case is a convoluted labyrinth as one could imagine, but Zaillian's script does the best job it can keeping everything straight. There was an accident on the bridge the day of Harriet's disappearance, so no one was able to enter or leave the island. This leaves only members of the Vanger family as suspects to Harriet's murder; however, all the research, newspaper clippings and old photographs seem to be leading Mikael to no conclusions. Isolated in his own chilly cottage provided by Henrik and gradually meeting each member of the Vanger clan, the looming dread becomes ever more apparent that Mikael is residing among a murderer. Even Henrik despises his family as some of them had (or still have) Nazi sentiments. Among the Vangers is an ominously cordial Stellan Skarsgard as Martin, Harriet's brother.
Running parallel to this is the plight of Lisbeth Salander dealing with a new guardian (Yorick van Wageningen). He is cruel, abuses her and is smug about thinking he can get away with it. In a scene staged with brutally naked violation, we are roused to side with Lisbeth solidifying her role as an avenging angel to the men who hate women. The film flickers back and forth between Mikael and Lisbeth until finally they're brought together working on the Harriet case. She joins him as a research assistant, and though they start off weary of each other -- Lisbeth by nature and Mikael because she did the extensive background check on him -- they generate an eccentric, downbeat chemistry. Daniel Craig as the scrappy left-wing journalist stands above Michael Nyqvist from the original with his confident charisma and sexuality although he doesn't attempt the Swedish accent as Mara does.
The film runs at 158 minutes and doesn't drag for a second. Also essential to Fincher's style is the return of Trent Reznor and Atticus Ross from "The Social Network" providing a musical score that seethes with white noise and creepy ambiance. There's always the question why did we need an English version of "The Girl with the Dragon Tattoo" immediately after the original was such a success? The answer is simple. We wouldn't have received another dark, riveting and complex piece of entertainment from David Fincher. He gives audiences a fresh new take, not a mere rehash. And it's filmmaking that benefits from the written words of Stieg Larsson at its core. It's a tale that plays with our terror and fascination of the unknown. It's about awaiting what human horrors will be uncovered next, what depravity in humanity exists and what is hidden behind closed doors.