10. My Week with Marilyn
What gets me so excited about this one is Michelle Williams playing the titular role of Marilyn Monroe. This performance will hopefully get her the recognition she has so long deserved, especially since she was overlooked for "Blue Valentine."
9. J. Edgar
Another heavy lead performance Oscar movie with Leonardo DiCaprio at its head. From the looks of the trailer, this latest outing from director Clint Eastwood is going to soar with critics as a rich biopic with a talented supporting cast. This is also no doubt DiCaprio's Best Actor vehicle, but I'd like to think it has more going for it than just that.
8. Paranormal Activity 3
I loved "Paranormal Activity" and although obviously lacking in originality, its sequel had even more effective scares. And so I can't help but get excited for the third installment from the directors of "Catfish." They basically promoted that viral pseudo-documentary as a horror flick, so just imagine them actually tackling one. That Bloody Mary part in the trailer alone had me peeking through my fingers.
7. The Rum Diary
I don't generally like Johnny Depp, but I sure did like him in this year's "Rango" -- even though he was voicing an animated lizard. And speaking of "Rango" with its undertones of Hunter S. Thompson, this latest starring Johnny Depp is actually an adaptation of a Thompson novel. The trailer is misleading at first, but then divulges what the film is really about: that substance-induced blurring between fantasy and reality. I'm intrigued.
6. Melancholia
Although I despised almost everything about Lars von Trier's "Antichrist," the director still has me roped in and anticipating his next feature. It seems much more subdued and contemplative than his last one, and Kirsten Dunst earned herself a Best Actress award at this year's Cannes. It's been getting underwhelming reviews, but with all that slow-motion and hoopla about the end of the world, I'm hooked.
5. War Horse
The teaser for Steven Spielberg's "War Horse" couldn't be any more of an announcement to the world that, hey, he's back in the game and going for an Oscar! But can you blame him? The movie looks magnificent. A sweeping historical piece as directed by the one and only Spielberg trumpeted by a resounding score from John Williams, and it's all just in time for Christmas.
4. Young Adult
After director Jason Reitman's "Up in the Air," he's now reunited with screenwriter Diablo Cody ("Juno") for his next feature. It stars Charlize Theron, and the first image of her from the film has been released along with a poster -- but not much else. I'm anxious for a trailer to see if the tone is going to match up with the overly quirky "Juno," or if it'll be a little more down-to-earth. Here's to hoping for the latter.
3. Extremely Loud & Incredibly Close
There has been almost nothing released about this adaptation of Jonathan Safran Foer's best-selling novel. All we know is that it's directed by Stephen Daldry ("The Reader") with a screenplay by Eric Roth ("The Curious Case of Benjamin Button"), and Tom Hanks is in it. I read the novel and fell in love with it, but it's also something that seems impossible to adapt for the screen. But don't they all? The film is also in talks of being the front-runner at this year's Oscars. Only time will tell.
2. The Descendants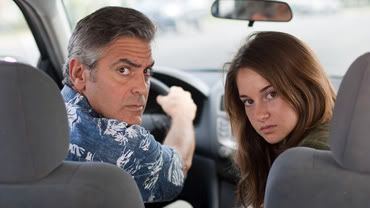 Another Alexander Payne film, and his first in seven years? Well, count me in. Starring George Clooney, this film appears to be another Payne-ian look at human relationships à la "Sideways" and "About Schmidt." It received mixed critical reception from the festival at which it premiered -- some even called it Payne's worst effort -- but my hopes remain high.
1. The Girl with the Dragon Tattoo
David Fincher's remake of "The Girl with the Dragon Tattoo" is easily my most anticipated movie of the fall. Ever since Rooney Mara's transformation into gothic bisexual hacker Lisbeth Salander graced the cover of magazines, I knew this adaptation of the Swedish novel would absolutely nail it. And then came the first
teaser trailer
with a rocking track from the Yeah Yeah Yeahs and the tagline, "The feel bad movie of Christmas" to hype up the anticipation. Not to mention that revealing initial poster with Rooney Mara and co-star Daniel Craig, and now the official trailer which perhaps runs a little long but still proves that Fincher definitely has a handle on the ideal tone for what this movie is all about. Gritty, grisly stuff.