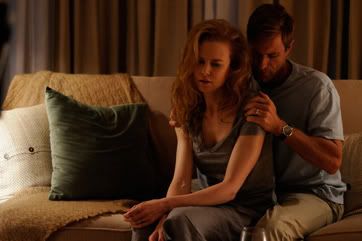 "Rabbit Hole" (2010)
Given its subject material, going in to see "Rabbit Hole" one would probably not expect room for anything else in the film except grief. It is about Becca (Nicole Kidman) and Howie (Aaron Eckhart), a couple who experienced the death of their 4-year-old son, Danny, eight months ago. He ran out into the street chasing the family dog and got struck by a car. They were immediately leveled with grief and still wrestle with it eight months later where the film begins. The film itself, however, while touching on grief, doesn't dwell on it. Instead director John Cameron Mitchell ("Hedwig and the Angry Inch," "Shortbus") uses humor and a surprising level of warmth, an accomplished feat while navigating such grim terrain.
There is a trio of beautiful and exquisitely nuanced performances. Nicole Kidman presents immense clarity in Becca's emotional state, and we immediately understand the conflicting thoughts inside her head. She is a confused woman whose life used to be controlled by her state of mourning. Now she has turned to anger and through anger rises humor, sharp and searing humor that may unintentionally hurt others. Kidman's performance shines above the requirements of the script; she morphs her character into a truly complicated and multi-layered individual.
Aaron Eckhart is equally as good playing Howie whose desire to hold his son within his memory outdoes his wife's. Becca begins removing items from around the house that remind them of Danny: pictures off the fridge and clothes hanging in his closet. Howie and Becca feel the need to move on in different ways. While trying to recharge their sex life and perhaps try to have another baby, Howie is pushed back by his wife's desire to simply forget. Howie therefore turns to anger, as well, especially when his favorite video of Danny gets deleted off his iPhone, but his anger comes from a different source. Each party within this relationship is looking for something different.
The third performance comes from Dianne Wiest ("Synecdoche, New York") as Becca's mother, Nat. The story between Becca and her mother has arrived at a point where anything you say is taken the wrong way. And, beyond that, it feels there is nothing left to say at all even between Becca and Howie. What then? Nat tries to console her daughter, but Becca doesn't want to hear it anymore; her emotional state has gone beyond the need for any consolation. It has moved on to coping, especially now that Becca's sister (Tammy Blanchard) is pregnant.
Written by David Lindsay-Abaire and adapted from his Pulitzer Prize-winning play of the same name, the film is a careful observation of the separate paths Becca and Howie begin to take. They begin going to group therapy together where they meet Gaby, played casually by Sandra Oh. Becca, however, can't stand the "God talk" at the sessions and opts out of going. She then one day comes across a young man named Jason who drove the car ending Danny's life.
A caring relationship blossoms between Becca and Jason and remains private from Howie who still holds resentful feelings toward him. They meet in a park to simply hear each other out, and Becca also learns Jason is working on a comic book, one that tells of parallel universes, alternate realities and rabbit holes. This intrigues Becca as she thinks of a version of herself out in the world, a version of herself that is happy.
Meanwhile Howie finds comfort in Gaby as they enjoy each other's company and smoke pot together. He resorts to another woman when even his own wife has run out of things to say to him.
The moving and deeply perceptive "Rabbit Hole" is more than a film about the loss of a child. It could be about any monumental moment of pain in a person's life as similar emotions and reactions would apply. This is more accurately a film about what we all do as human beings, which is simple enough: just try to get on with things. It takes one small step at a time in learning to just deal with it in order to keep living.