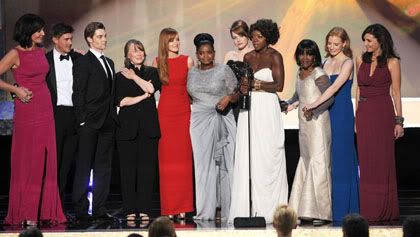 "The Help" dominated last night's 18th Annual Screen Actors Guild Awards, and doesn't it make perfect sense? It was a film domineered by great actresses giving deservedly great performances. It ended up taking home three SAG awards including the top prize of Best Ensemble. Though it may seem like it, this last win for "The Help" doesn't bolster its Best Picture win chances at the Oscars.
All of the acting categories are locks now except one. Viola Davis for "The Help" won for Best Actress, Octavia Spencer also for "The Help" won Best Supporting Actress and Christopher Plummer took home Best Supporting Actor for "Beginners." All of these will be repeated at the Oscars.
The only one that's up in the air now is whether Jean Dujardin for "The Artist" or George Clooney for "The Descendants" will take home the Best Actor prize. With Dujardin's SAG win last night, it looks to be the latter because these awards truly are the best predictor for the acting categories. I could see the Academy showing their love of "The Artist" by giving the win to Dujardin although Clooney seems to be the current front-runner.
Check here for a
full list of winners from the 18th Annual SAG Awards
.