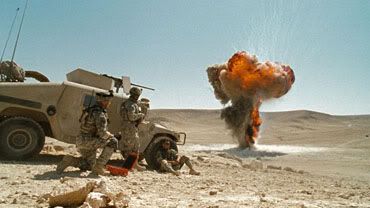 Well, it's that time again. How predictable did this year in Oscar turn out to be? Just about the usual, I'd say. But, who knows, maybe "Inglourious Basterds" will just be a dark house and astound everyone.
My verdict for how the night will unfold: "The Hurt Locker" will sweep while "Avatar" will win for Art Direction, Visual Effects and nothing more.
Best Picture:
While "Avatar" might have been the talk of the town, "The Hurt Locker" has this one locked.
Directing:
Without any question, Kathryn Bigelow.
Best Actor:
As much as I may want Colin Firth to take this one, it'll be going to Jeff Bridges for "Crazy Heart."
Best Actress:
Sandra Bullock for "The Blind Side" cannot be beat at this point.
Best Supporting Actor:
Christoph Waltz for "Inglourious Basterds" is certain.
Best Supporting Actress:
Another lock: Mo'Nique for "Precious."
Animated Feature:
"Up" has it.
Best Original Screenplay:
Quentin Tarantino's "Inglourious Basterds" will most likely nab this one. Who else could proclaim that the power of cinema is what beat the Nazis in WWII?
Best Adapted Screenplay:
Jason Reitman and Sheldon Turner for "Up in the Air" seems to be the most logical choice.
Sound Editing:
This is tough. Although "Avatar" could likely take this, the tides have changed, and I'm predicting "The Hurt Locker."
Sound Mixing:
Again, I'm going with "The Hurt Locker."
Film Editing:
Since I have it winning Best Picture, it can only go to say this: "The Hurt Locker."
Documentary Feature:
I'm predicting "The Cove" for this one because it's the most well-known and best reviewed documentary of the year.
Foreign Language Film:
It could randomly be given to "A Prophet," but I'm still going to go with "The White Ribbon."
Cinematography:
Another tough one. While I first thought "Avatar" had this one in the bag, since the British Academy gave it to "The Hurt Locker," my prediction will lie there.
Makeup:
"Star Trek," right? I mean, there were green people.
Costume Design:
"The Young Victoria" because it's a period piece from a lovely looking period of time.
Visual Effects:
Here's your win, "Avatar." Enjoy it.
Original Song:
"The Weary Kind" from "Crazy Heart" has this locked because the music was such a huge part of that movie.
Original Score:
Michael Giacchino for "Up" nailed this.
Art Direction:
I'm predicting a second win for "Avatar" here. The movie was gorgeous, and there's no denying that.
Tune in to ABC on March 7 at 8:00pm to catch the 82nd Annual Academy Award ceremony to find out how correct your own predictions turn out to be!