Movie Review
The Savages (2007)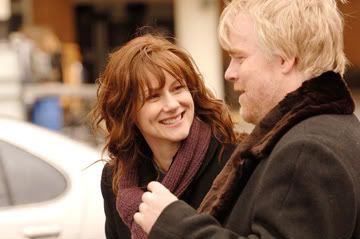 Here is yet another one of the best films of the year. It's the story of two unhappy siblings who rejoin to take care of their estranged father, now suffering from vascular dementia, putting him in a nursing home where he will eventually pass away. Now, a premise like this immediately sounds dull and miserable, but it turns out that "The Savages" (fittingly titled after the family name) is terrific. What's so refreshing is its willingness to be real and tell it how it is. It's the opposite of charming and sharply unsentimental, dealing with the harsh realities of life, death, and what pulls us together in the end.
Jon (Philip Seymour Hoffman) is a college professor working in Buffalo, and Wendy (Laura Linney) is a struggling temp in New York City. Jon is consumed by his writing on a book about Brecht. Wendy spends the days in her office writing letters requesting grants so she can fund the play she's writing. Jon is allowing his girlfriend for three years to move back to Poland because he's too afraid to marry her. Wendy is sleeping with an older married man to keep her sex life alive even if she's more in love with the guy's dog. They are both disgruntled, in the midst of a middle-age mid-life crisis, and are forced to come together due to their elderly father, Lenny (Philip Bosco), who was found cussing out his ill girlfriend's caregiver by writing in feces on the bathroom wall.
Wendy receives the call of her father's early signs of dementia, and she drags a reluctant Jon along to fly to Arizona. Once there, they discover their father living with his same-age girlfriend, Doris, until she quickly passes. Wendy doesn't hesitate to take the dead woman's prescription painkillers. Having no place to live, Wendy and Jon fly Lenny back to Buffalo where they plan to put him into a nursing home; he is too far along in his condition to be able to handle just assisted living. Wendy feels like a terrible person for doing this to her father, but Jon believes its best. While temporarily housing together, the two of them argue over what establishment to keep him in, which leads from one tragically funny scene to another.
I just love Laura Linney. She and Philip Seymour Hoffman are in top form here. Linney is heartbreaking as Wendy, a woman who cherishes her cat and her symbolic ficus. She is desperate, aching, and painfully humorous in her attempts to make things better. Hoffman delivers another dynamite performance to go along with his two other big performances this year in "Before the Devil Knows You're Dead" and "Charlie Wilson's War," playing Jon, a worn-out guy who cries over his girlfriend's eggs, stuffing all of his emotion behind a nonchalant attitude that doesn't fool anybody. Even Bosco presents a convincing picture of an elder who has lost it, and yet not entirely, because he still can roll his eyes at his children's usual quarrels. There are so many refined nuances within these winning performances that make the movie what it is. It's so beautifully nuanced with acting so good that we see these actors playing real people, not just characters. We see traces of ourselves within them, as hard as that may be, with all of their flaws.
Writer and director Tamara Jenkins delivers her own nuances within the script, expressing realism without any frills, which makes it so endearing. The writing finds comfort and humor in small moments, which is really what life is all about. One scene, in particular, involves Jon throwing his back out during a game of tennis; he and Wendy come home to put him in a hanging neck brace that takes strain off his back. He looks hilarious, telling Wendy not to laugh, but while telling her, he's laughing himself. In times such as that, Linney and Hoffman truly make us believe the sibling dynamic underneath their relationship; it's superb. They both know what they're doing at every exact moment, playing off each other with great collaboration, and they do it with energy and are both very funny.
"The Savages" is a movie with uncommon appreciation for life just how it is. It's comedic without even lifting a finger and contains genuinely dark humor with just the right bittersweet taste to make you either want to laugh or cry. This is a movie that shows us the paths in life we must travel, crappy as they may be, and the people that are created at the end of them.