Movie Review
Sweeney Todd: The Demon Barber of Fleet Street (2007)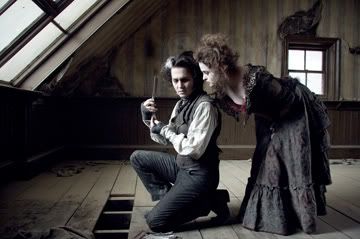 Stephen Sondheim's 1979 macabre musical and director Tim Burton are the ideal match. "Sweeney Todd: The Demon Barber of Fleet Street" is a bloody good time, a masterpiece of a musical that combines Sondheim's original intent with Burton's infusion of his trademark style. This feels like the movie Tim Burton was born to make as it includes all of his favorite elements: the grotesque, the bizarre, the unbelievable, and the romantic. In this tale about a throat-slitting barber in 19th century London, the murder is cold, the revenge is bittersweet, the music is soaring, the meat pies are made fresh, and the blood flows like water.
Casting Johnny Depp as the demon barber is ingenious. His untrained singing voice is rough, and yet it's powerful with his force and conviction. He blurs the line between acting and singing, combining both together into something memorable. Tapping deep into Sweeney Todd's rage, he makes the character his own, making us feel his anger and pain. Beside him is Helena Bonham Carter as the petite, sad-eyed, and pouting-mouthed meat pie maker, who rivals Depp with an equally untrained and stringy voice that is wondrously fitting. The two of them are stupendous together, both sporting pale faces and dark makeup in their eye sockets that give them complementary corpse-like complexions. In these two actors, Tim Burton has found his perfect instruments; not only in the fact that Depp has worked with Burton since "Edward Scissorhands" and that Bonham Carter is Burton's wife, but also in that nobody could fit the roles better.
It all begins when Benjamin Barker (Johnny Depp) is wronged by the evil Judge Turpin (Alan Rickman), sent to jail, and has his wife and child taken away from him. Barker's little girl, Johanna, is now older and the judge's ward and prisoner. Barker escapes from prison, sailing on a ship back to London with a young man named Anthony Hope, who eventually becomes Johanna's lover. Barker races through the streets of London to find his former barbershop with the same landlady downstairs in her pie shop. She's Mrs. Lovett (Helena Bonham Carter) who makes the worst pies in London. She explains to Barker the fate of his family and follows him upstairs to his barbershop now in ruins. He changes his name to Sweeney Todd and decides to reopen for business, but with different motives this time.
Sweeney is seeking revenge on the Judge and anybody else who dares to challenge him. This includes a cameo played by Sacha Baron Cohen as Adolfo Pirelli, an obnoxiously French rival barber who tries to blackmail Sweeney. Big mistake. Cohen even gets a chance to sing, reaching a surprising falsetto within his far too tight pants. This initial kill is what strikes up Sweeney's new business. Holding out his "friend," the straight razor, he proclaims that his right arm is finally complete again. His ultimate goal of killing the Judge requires the deaths of plenty of other customers along the way, and that's where Mrs. Lovett benefits: those victims are the meat for her meat pies. Soon enough, business is booming, and the citizens of London are all unknowing cannibals dining at her pie shop.
Mrs. Lovett sings that the victims "will never be missed," and Sweeney agrees, gazing over the rooftops, singing that "they all deserve to die." And so they do. As often as he can, he lures the dining guests up for a shave, and Burton skips no scene in showing the savagery. The ensuing geysers of blood against a singing Sweeney and a red glistening blade will give you chills. The blood is not at all realistic, which is good, as the color is artificially bright. Sweeney crafts his chair to flip backward, sending his victims into the basement where they are ground up; down the chute they go with a sickening thud at the bottom. Down on the streets, witnessing it all, a constantly shadowed beggar woman sings of a "city on fire."
There are strong performances with every person getting a chance to sing, even Alan Rickman, who oozes sexual longing and desperation in his number, "Pretty Women." And Bonham Carter is charming singing "By the Sea," about her longing for Sweeney. Every song is beautifully scored and although many have been cut from the original 3-hour-long Sondheim musical, the ones that remain are all great. All of the songs carry the weight with no real show-stoppers; this keeps the story flowing smoothly with song after song meshing together and returning in the background.
"Sweeney Todd" is darkly funny and full of raw emotion surrounding a story of vengeful murder and ultimate redemption. It ends on a mixed note, a satisfactory one, yes, but one that leaves you stunned. This is no joyful romp, but you'll find yourself chuckling. It's also no downer, and yet there are moments of despair. In the end, Sweeney Todd, covered in blood, kneels down and is finally overcome with his emotions. It's an astonishing moment, one of both tragedy and beauty.