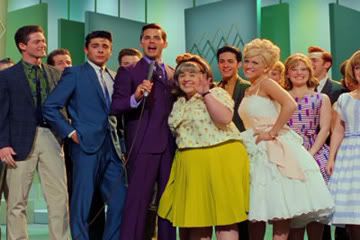 Archive: "Hairspray" (2007)
"Hairspray" has such high spirits and so much energy that it not only transforms your mood while you're watching it but also for the rest of the evening. Everything about this musical is so happy and upbeat, and the entire time you're watching it, you'll have a big, goofy grin on your face. It's one thing when a movie has the ability to do this, but then it's really something for it to actually be good. It's a welcome surprise and a big hit.
Based on the 2002 Broadway show, which is based on the 1988 John Waters film, people who avoid musicals aren't going to have their minds changed, but this adaptation is still just too good to deny. What's best is that it isn't trying to compete against A-list musical adaptations like "Dreamgirls" or "Chicago," which gives it an unpretentious charm. Set in 1962, it follows the dream of a bouncy butterball of a girl named Tracy Turnblad. She is played by newcomer Nicole Blonsky whose exuberance and smiling face fills the screen from the opening song, "Good Morning, Baltimore." She can sing, dance, and with an assured comfortableness with herself, carries the entire rest of the show.
Each day after school, Tracy and her best friend, Penny Pingleton (Amanda Bynes), race home to catch their favorite local song and dance TV show. It stars kids they know from school, including the slick stud every girl wants, Link Larkin (Zac Efron from "High School Musical"); lucky for Tracy, her courageous charisma is enough to attract the eye of Link as he entirely ignores his current girlfriend, Amber (Brittany Snow). This blonde bombshell gets a run for her money when Tracy is allowed onto the show thanks to the open-minded host, Corny Collins (James Marsden). The show's mean-spirited manager and Amber's mother, Velma Von Tussle (Michelle Pfeiffer), is disturbed by the direction in which the show is taking, and subsequently, the direction in which all of society is headed.
The TV show is segregated, showing all white kids with only a single day each week called "Negro Day." The black kids dance a hell of a lot better than anybody else, and Tracy sees this firsthand when she's sent to detention; it turns out that it's the hip place where all the black kids strut their stuff. This is when Tracy is faced with the real issue, one that is much bigger than winning the "Miss Teenage Hairspray" crown. Things especially start erupting due to a budding relationship between Penny and the coolest black in town, Seaweed (Elijah Kelley). Leading the fight for integration is the once-a-week host, Maybelle, played wonderfully by the strong-voiced Queen Latifah; she absolutely shines during her musical numbers. Many of the songs pack a meaningful punch, including her rousing "I Know Where I've Been."
Having so many musical numbers tightly strung together works to the movie's advantage because then there's never a dull moment. Each and every tune is catchy and memorable, and frankly, a lot more fun than "Dreamgirls." They effectively advance the story, moving from one distinctly fresh location to another. The choreography, too, is creative and exhilarating. It's all very hip and has the look of the 60s, including everybody's outfit and just the overall atmosphere in itself. Everything has a bright high-polish finish, and the equally exaggerated characters fit perfectly. There's just a hard to describe magic about it that is hard to describe, which makes it such a feel-good experience.
With other music-related movies in his past experience, John Travolta is the perfect choice to play Tracy's overweight protective mother, Edna Turnblad. It was a bold move for him, but guess what? He does an awesome job and plays Edna with an honest sincerity and sweetness. After the initial reaction, you no longer see John Travolta in drag underneath a big fat suit, but rather, an enormous woman with a huge heart to match. Here's a woman who hasn't stepped outside in 11 years because she's so embarrassed of herself, but when she finally does during the great number "Welcome to the 60s," the emotions are in full-swing. Watching Travolta bounce around in that body wearing a pink glitter dress is certainly a sight to see. There's also Christopher Walken as Edna's hubby Wilbur, and the musical number "You're Timeless to Me" between them is another priceless moment.
And if all of that doesn't suck you in, the finale of "Hairspray" is bound to get those feet tapping, maybe even for those who are usually close-minded about musicals and their super gay way. Either way, "You Can't Stop the Beat" closes the big Hollywood musical perfectly, leaving us on a gloriously climactic high note. This one's surely got the beat.