Where the Wild Things Are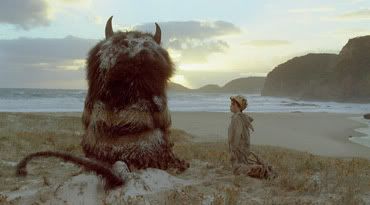 "Where the Wild Things Are" is one of the year's best films. What we have here is the bold combination of Maurice Sendak's 1963 classic Caldecott Medal-winning children's book and the Oscar-nominated director Spike Jonze ("Being John Malkovich," "Adaptation"). How Jonze and his co-writer Dave Eggers took Sendak's book of only 10 sentences and made it into a feature length movie is something beyond me. And how they made it into something as exciting, tender, beautiful, and moving as this, it's just magic.
Jonze could've taken the easy route and made his movie animated, but instead, he shoots it live-action with the help of longtime cinematographer Lance Acord on a hand-held camera and towering creature costumes with CGI facial expressions and a great cast of actors' voices. The film has a very primitive style, an aesthetic that fits the rugged and dreamlike qualities within the wonders of a child's imagination. Jonze's goal was to match the mindset of a 9-year-old boy, and he has succeeded. The boy, Max, is played by Max Records who is only 12. In his performance, he bursts with energy, freedom, and exploration. Yet, he's lonely. Throughout our introduction to Max, he roughhouses with his dog, commences a snowball fight, messes with his sister's room in a fit of anger, and shrieks in a triumphant moment of rebellion at his mom (the always wonderful Catherine Keener). It's when Max pushes his mom to the limit that his adventure begins, and he journeys to where the wild things are.
Wearing his cat costume complete with whiskers, Max travels there by boat to this land that is expansive in its promise of excitement and danger. The wild things are given their own names and distinct personalities that are derived from Sendak's illustrations. Max finds himself amongst quite a crowd, and, out of pure adrenaline, labels himself king of these wild things. "Let the wild rumpus start!" he exclaims. We soon discover the insecurities and anxieties of each wild thing. Carol (James Gandolfini), Judith (Catherine O'Hara), Ira (Forest Whitaker), Alexander (Paul Dano), and Douglas (Chris Cooper) all share a dynamic that reflect the same squabbles and concerns that fill any child. Across a gorgeous landscape of sand, forest, and water, Max and his wild things build a fort, howl and rabblerouse, and rest in a big, breathing, slumbering pile.
While donning a PG-rating, there are some moments throughout that could be considered scary for younger viewers. Jonze, believe it or not, has perhaps created a kid's movie that really isn't all that much for kids, and I see this as a very good thing. It allows the movie to really get to the heart of children's fears and aspirations, the true horrors that no parental guidance can ever shield. The hurt behind the yellow eyes of the wild things is proof enough that they don't sugarcoat anything for Max and deal with discrepancies in all seriousness. Jonze treats his film likewise and, while still holding moments of tenderness, he never shies away from the vaguely nightmarish. The result is truly special, affective, and deeply emotional.
The score by Karen O (of the Yeah Yeah Yeahs) and the Kids is perfect. It's jubilant and hauntingly melancholy all at once, a masterful backdrop of colorful sound and atmosphere that brilliantly fits the universe Jonze has created. With his film adaptation of "Where the Wild Things Are," Spike Jonze has paid proper tribute to the original source while still taking on the project as something entirely his own, something that he has shaped into this wonderfully odd and profound creation. It is a work of art, a preservation of the book's spirit and an affirmation of its potent themes on childhood through the remarkable application of Jonze's own fully realized and sensible vision.