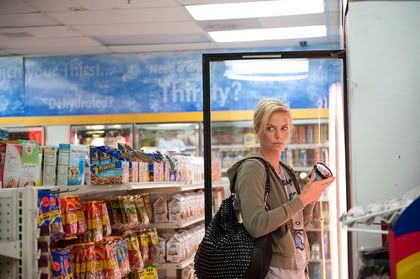 The re-teaming of screenwriter Diablo Cody and director Jason Reitman proves "Juno" was no fluke. Their collaboration with "Young Adult" is inspired, a scalding black comedy about the queen bitch in high school and everyone's worst nightmare -- except now she's 37 and returning to her hometown. The movie is cynical and goes down like a sour shot, but it's the year's most unexpected surprise by breaking every rule in conventional Hollywood storytelling.
Mavis Gary is played by Charlize Theron in a ferocious and raw performance. She is a protagonist that is completely unlikable and unsympathetic. She is unpleasant, cruel, condescending, delusional and fueled by a keen sense of self-destruction. Yet what's so remarkable is the way Theron ever so casually makes us -- with the help of Cody's fearless writing -- feel for Mavis.
She is relatively successful having moved out of her Midwest town now living in an apartment in Minneapolis. She writes young adult novels for a popular series but really is just a ghostwriter -- and the series is no longer selling. Her apartment is a pigpen, she spends every night slamming back bourbon, every morning chugging liters of Diet Coke to cure hangovers and is destined to be single forever. And while she moved away and feels superior to anyone back home, she still puts more thought into them than she lets on. Then she receives a mass email from her high school sweetheart, Buddy (Patrick Wilson), who recently had a baby with his wife. Mavis immediately becomes obsessed with the idea of going home and stealing Buddy back.
When Mavis first gets into town, she has a run-in with Matt (Patton Oswalt), a chubby geek from high school whose life was ruined from being the target of a hate crime. The media paid attention to it until they found out he wasn't actually gay, just mistaken for being gay. Patton Oswalt's Matt is pivotal to the movie's success. He is the cushion for all of Mavis' impossibly reckless behavior and provides a perspective we can agree with. Well knowing the hilarity and absurdity of Mavis' pitch black predicament with Buddy, he also sees she is just as miserable as him even if she fails to realize it. We recognize a sadness that she doesn't know is there. She can think the only reason she's hanging out with Matt is because he's the only one in town, but in fact they share a connection.
"Young Adult" plays out in a series of incidents that will have you crawling in your skin. Patrick Wilson has a tough job as Buddy playing a really nice, well-meaning guy who's desperately trying to not to offend or embarrass Mavis. It is, in some ways, a better movie than "Juno." It's more complicated and a whole lot harsher placing Diablo Cody not just as pop-savvy but a screenwriter of importance. In Mavis we're watching a humiliating train wreck, but one that is treated with honesty. In such we can't help but derive a bit of truth out of it, and more than a few laughs.