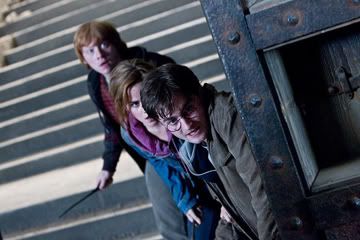 "Harry Potter and the Deathly Hallows: Part 2" (2011)
Harry, Ron and Hermoine (Daniel Radcliffe, Rupert Grint and Emma Watson) return home to Hogwarts in "Harry Potter and the Deathly Hallows: Part 2," the phenomenal conclusion to the longest running and most profitable movie franchise of all time. It's storytelling that has defined a generation and spanned an entire decade, and this is a more than fitting and immensely satisfying ending for The End -- an enormously important moment in pop culture.
The decision to split the final installment of J.K. Rowling's literary epic is announced even clearer here than in "Part 1" as the right choice. This is the shortest "Harry Potter" installment but packs in the most action perhaps of all other seven films combined creating for a grand finale. It works as a great contrast to the slower more atmospheric tone of "Part 1." Director David Yates and screenwriter Steve Kloves have been in perfect harmony ever since the sixth installment, and since then they have made "Harry Potter" films that just keep getting better. The remarkable thing is that "Part 2" far surpasses the rest as the best yet; it's emotionally wrenching, visually thrilling and offers up payoffs that cannot be matched working as a graceful homecoming for the series.
The continued hunt for the seven Horcruxes -- which each contain pieces of Lord Voldemort's soul that must be destroyed -- lead our three heroes back to the place where it all began. This gives us a chance to think back to 2001's "The Sorcerer's Stone" where all the plucky, bright and anxious energy has now turned to a darker, richer palette of dread and gloom as the siege on Hogwarts begins. Yates and Kloves reprise themes and characters we haven't seen for some time but certainly have not forgotten. Even the brilliant score from Alexandre Desplat rings with reminiscence of "Harry Potter" movies past.
When the familiar faces of Professor McGonagall (Maggie Smith) and Neville Longbottom (Matthew Lewis) appear to us, it elicits an adrenaline rush of joy in signaling that everyone has come together again reunited as one against a formidable force of evil. The battle at Hogwarts is expertly staged and choreographed with some of the best visual effects placed within real world, human situations you'll ever experience on screen. Before we even arrive there, Harry, Ron and Hermoine have to break into Gringotts Banks guarded by stoic goblins and a fire-breathing dragon. It's a most ingenious and harrowing scene where the feeling of time running out and Death Eaters close on the heels of our beloved trio is ever so palpable.
The acting is, as we've come to know, solid across the board. How could it not be? These actors have been with their characters for so long. Extra room for bravado is given to Daniel Radcliffe as the Boy Who Lived, Alan Rickman as Severus Snape and -- for the first time -- Ralph Fiennes as the seething, slit-nosed Lord Voldemort. Fiennes is more expressive about his fury and agony toward Harry Potter encapsulating what we well know is at stake. Rickman's mysterious Snape is fully established, and the realization of his connection to Harry -- as seen in memories through peering into the Pensieve -- is beautiful and tragic.
It's the finish this saga deserves going out with a blast of authentic movie magic full of tension, awe and mortality. After the claps of thunderous destruction, howls of terror and triumph and swirls of smoke and debris, the dust settles and there stand Harry, Ron and Hermoine after all this time. My, how they've grown. It's a perfectly executed moment of absolute silence that occurs just before the interpretation of Rowling's famed epilogue. They exchange glances but no words simply because none are needed.
Beyond all the exhilaration of how good "Part 2" turned out to be, there's always the other side. That is, the deep underlying bittersweet sorrow of knowing that the end of this tale about witchcraft and wizardry -- teaching us so much about courage, friendship, getting older and taking responsibility -- represents, too, the end of a childhood that has shaped us as readers and moviegoers and one that will leave a lasting impression on us for years to come.
My review of
Harry Potter and the Deathly Hallows: Part 1