Ponyo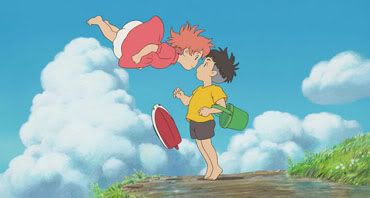 With Hayao Miyazaki back in the mix, Pixar may have some real competition on their hands for once. "Ponyo" is the work of a classic filmmaker, and it's remarkable how Disney managed to scoop up the best animators of our time. The latest from Miyazaki is his own retelling of the fairy tale "The Little Mermaid," one that is fully realized in a world bursting with imagination and color. The story really is just an excuse for us to be invited into this world of endless creativity and limitless possibilities, a combination that creates a visually sumptuous pleasure to behold. While the plot is small, the themes being addressed are rich and full. The relationships between parent and child, between the elderly and the young, between people and nature, between loved ones, they're all to be equally cherished.
The movie opens with an incomprehensibly dazzling scene of an underwater wizard interacting with sea life both modern and prehistoric, and this wordless introduction brings forth the pastel color style and traditional animation that Miyazaki uses throughout "Ponyo." One tiny goldfish swims away from the wizard and heads to the water's surface. There, a charming five-year-old boy named Sosuke (voice of Frankie Jonas, younger brother of the Jonas Brothers) discovers the nearly human-faced goldfish and claims her as his own. He names the little fish Ponyo (voice of Noah Cyrus, little sister of Miley Cyrus), takes her to school with him, and then to the nursing home where his mother (voice of Tina Fey) works. Sosuke innocently carries Ponyo around in a pail full of water not realizing that by allowing Ponyo to cross the divide between water and land, he has single-handedly created a massively dangerous tsunami with waves so high that flowing water ends up at the doorstep of Sosuke's hilltop home.
From here begins a magical adventure for Sosuke and Ponyo as they journey to find their mom. By this time Ponyo has sprouted legs and arms of her own and even speaks. She also has powers to transform a little toy boat into one big enough for her and Sosuke to travel in. It's a dreamlike sequence as they travel across waterways among treetops and look beneath them to see fish swimming amidst the roadways. Other wonderful sequences are abound, including the introduction of Ponyo as she sprints her way across crashing blue waves.
Meanwhile, the wizard is actually Ponyo's father, Fujimoto (voice of Liam Neeson). He is in search of Ponyo because he must return her back to the ocean in order to restore the balance of nature. He may appear sinister at times, but he ultimately holds good intentions. And although he despises humans for their polluting and wasteful habits, he simply wants to save Earth. As with other features of his, Miyazaki's fascination with nature remains to make for a rather environmentalist piece. It also provides bountiful gorgeous scenery to admire.
Thanks to Disney for providing the American version of "Ponyo" with a voice cast full of A-list actors. Keep your ears listening for, along with the other actors above, Betty White, Cate Blanchett, and Matt Damon. This isn't by any means Miyazaki's greatest achievement, but he also has a 30-year-long career working against him with masterpieces such as "Princess Mononoke," "Howl's Moving Castle," and an Oscar win for "Spirited Away." Nonetheless, "Ponyo" is still good-natured, absolutely enchanting, and adorable. This is Miyazaki tapping into his inner five-year-old to create a film that can entertain any person's inner child.