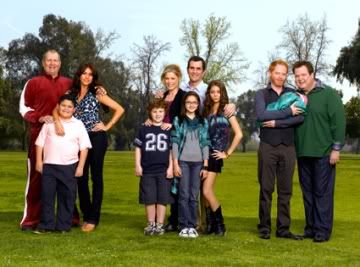 Last night ABC's fall TV line-up started out with a bang as the new half-hour comedy, "Modern Family," premiered at 9 p.m. This mockumentary-style show follows three families that are considered to be the idea of what a modern family is today. The show is already getting high
critical acclaim
and is being considered this fall's best new sit-com even with the likes of HBO's "Curb Your Enthusiasm" and NBC's "The Office," "Parks and Recreation," and "Community" in the running. ABC's other half-hour comedy, "
Cougar Town
," starring Courteney Fox, is not faring as well.
ABC's standards such as "Grey's Anatomy," "Desperate Housewives," and "Brothers and Sisters," among others, are also having their season premieres this week, satiating any need for resolve from unnerving cliff-hangers.
Last night also marked the series premiere of the twisty, big-level thrills drama "FlashForward." In the same vein as "Lost," this show features an evocative premise about everyone in the world blacking out at the same exact moment for 2 minutes and 17 seconds. A crazy puzzle is obviously going to unfold with this one, and it's almost as if ABC is scrambling to find their replacement for "Lost" as it has reached its sixth and final season. "FlashForward" is supposedly proving to have some
promise
as a filler.
And yet this fall also brings the third season of AMC's award-winning series "
Mad Men
," which, just as always, is getting the highest critical acclaim of any TV series out there.
But "Lost" is still the top for me. January simply can't come soon enough.