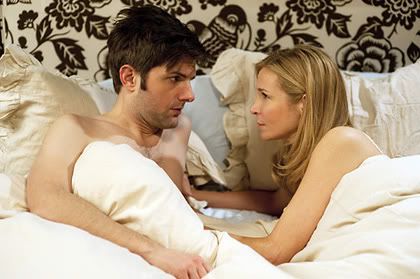 "Friends With Kids" marks the first movie sense "Bridesmaids" to continue that same brand of humor -- a female-driven comedy with just the right levels of raunch, wit and heart. It's the proof that Academy Award-nominated Kristen Wiig and Annie Mumolo truly started something. And so it's even more fitting that "Friends With Kids" also serves as an unofficial reunion of the "Bridesmaids" cast.
Jessica Westfeldt -- who co-wrote and starred in 2001's "Kissing Jessica Stein" -- goes solo this time writing, directing and starring in this candid look at adult relationships; ones affected by that tricky life obstacle we call having kids. The movie looks like any other rom-com you've seen set in bustling New York with sleek nightlife and nifty apartments. Setting it apart, though, is Westfeldt's screenplay full of sharp dialogue which brings up smart observations giving her characters more to chew on. Westfeldt, 42, clearly knows raising children is no easy feat, and her intensity on the topic shows. The movie's cynicism and harsh, biting humor is off-putting at first, but it eventually eases into a bittersweet balance.
Longtime friends Julie (Jessica Westfeldt) and Jason (Adam Scott) watch as their coupled friends have kids and, consequently, start losing sight of their formerly fun selves. Maya Rudolph paired with Chris O'Dowd and Kristen Wiig with Jon Hamm (all of "Bridesmaids") play the married duos, and they're consistently great. While Julie and Jason revel in their carefree and sexy lives going on dates and being unattached, they still want to have a baby -- just without the baggage of a relationship. So, on a whim they decide to have a baby together while sharing custody but remaining in their separate apartments with their separate lives.
After their baby Joe is born, Jason goes out and meets a dancer named Maryjane (an interesting choice of Megan Fox who is perhaps purposely kept quiet) while Julie finds love with a suave divorcee, Kurt (Edward Burns). Meanwhile baby Joe bounces back and forth between their two lives, like a shared custody post-divorce without the messiness of a divorced marriage. Their friends, having had kids in wedlock, aren't sure how to take Julie and Jason's unique situation. It's used as a clever platform to launch the movie into a lot of talk with the kind of frank, graphic conversations contemporary R-rated comedies are having now -- for adults -- about relationships, marriage and sex. And it's all good talk.
The question: do they remain friends? Well, "Friends With Kids" is at its very core a standard rom-com, so answer that one for yourself. But through it are plenty of moments worth remembering. Adam Scott, of "Parks and Recreation," is a scene-stealer as the snippy, smart-mouthed Jason who has a revelationary monologue during a snowy cottage getaway with the six friends. And Westfeldt proves a fine leading lady who also shows in a worthy directorial debut that she knows how to get the most out of a fantastic ensemble cast.