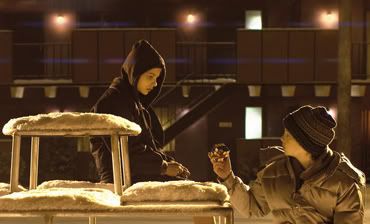 It would appear that remaking Swedish film hits is the newest trend in filmmaking. Along with all the buzz of David Fincher's "The Girl with the Dragon Tattoo," coming this October just in time for Halloween is the remake of the highly-acclaimed Swedish film, "
Let the Right One In
." Unassuming in its title, the film is about vampires but also hailed as one of the best vampire movies ever made. Lofty ambitions for the American remake, titled "Let Me In," coming from the director of "Cloverfield," Matt Reeves.
Upon checking out the
trailer for "Let Me In,"
I have to say I'm looking forward to it. What most impresses me about this new version is the rather brilliant casting. After her successful break-out performance in "Kick-Ass," the casting of Chloe Grace Moretz feels pitch-perfect. The other young actor is Kodi Smit-McPhee best known for playing the Boy in "The Road" alongside Viggo Mortensen.
And if the trailer is any indication, the movie also seems fittingly dark and moody.