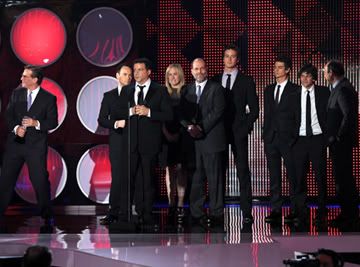 The cast and crew of "The Social Network" accepting for Best Picture
The 16th Annual Critics' Choice Movie Awards last night indicated a surefire lock for the top four acting categories that will more than likely happen at the Academy Awards.
Colin Firth took his well-deserved award for Best Actor for "The King's Speech" as well as a radiant and pregnant Natalie Portman of "Black Swan" for Best Actress. It is clear these two will move on to win the Oscar.
Before these two awards, however, "The Fighter" started off dominating the acting prizes by starting off the night with winning Best Acting Ensemble. This was followed by a Best Supporting Actor win for Christian Bale and a Best Supporting Actress win for Melissa Leo.
Although "Black Swan" received a whopping 12 total nominations, Natalie Portman was unfortunately the film's singular win. "Inception" won a total of six awards nabbing Best Action Film along with all technical awards including Best Editing, Visual Effects, Art Direction, Cinematography and Sound.
Though I predicted "Inception" winning these aside from Editing which I had "The Social Network" winning, I labeled "Black Swan" as taking at least Best Art Direction and Cinematography. Instead it looks like it might be a technical sweep for "Inception" come Oscar time.
Following "Incpetion" was "The Social Network" with four wins which included the two top prizes of Best Director and Best Picture as expected. Its other two wins came in the categories of Best Adapted Screenplay for Aaron Sorkin and a surprise win for Best Score for Trent Reznor and Atticus Ross, a win that was widely expected to go to Hans Zimmer for "Inception."
"The Fighter" came next with its three acting wins followed by "The King's Speech" and "Alice in Wonderland" each with two. Best Makeup and Costume Design went to the latter.
Along with the win for Colin Firth, the other award for "The King's Speech" went to Best Original Screenplay for David Seidler, a win that I had predicted would go to Christopher Nolan for "Inception."
With an Original Screenplay win for "The King's Speech" matched up against an Adapted Screenplay win for "The Social Network," this perpetuates the battle of these two films at the Oscars as both will likely go on to win these respective prizes there.
Some small surprise wins arrived in the categories of Best Song which went to "If I Rise" from "127 Hours" over songs from "Burlesque" and Best Foreign Language Film for "The Girl with the Dragon Tattoo" over "Biutiful" and "I Am Love."
"Easy A" won Best Comedy, "Toy Story 3" won Best Animated Feature, "Waiting for Superman" won Best Documentary and Hailee Steinfeld of "True Grit" managed to defeat Jennifer Lawrence of "Winter's Bone" in the category of Best Young Actor/Actress.
How will the 68th Annual Golden Globe Awards line up as a predictor? I'm guessing not as well therefore continuing the trend of the Critics' Choice Awards being a better indicator of the Oscars' outcome. I predict the HFPA will award "The King's Speech" the top prize tomorrow night just as the HFPA incorrectly awarded "Avatar" over "The Hurt Locker" last year.
Full list of winners from the
16th Annual Critics' Choice Movie Awards
.