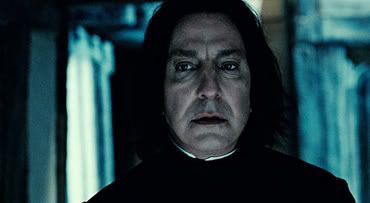 Alan Rickman as Severus Snape in "Harry Potter and the Deathly Hallows: Part 2"
With the release of the final "Harry Potter" this weekend, it's time to talk about this one's potential for Oscar gold. Previous installments have garnered a total of 11 nominations -- all in technical categories -- and no wins.
It really would be nice for this series to get more recognition for its cinematic achievement, and while the series won a British acknowledgement last year at the BAFTAs it hasn't had much in terms of awards over here. Now is a better time than ever for Oscar potential with the grand finale which has been widely hailed as the best in the franchise.
A big thing going for "Part 2" is that it is shattering box office records and is currently the most critically acclaimed wide release movie so far this year.
So, where could the nominations land?
It definitely has technical categories in the bag. Best Visual Effects is a given along with possibly both Sound Mixing and Editing. I don't think Cinematography and Art Direction are out of the question, either. Alexandre Desplat could also get some love for Best Score because it's been a while since a "Harry Potter" score was nominated. Best Makeup and Costume are a possibility, as well.
But beyond that, is there any pull for the actors? Daniel Radcliffe, Rupert Grint and Emma Watson are guaranteed to be left in the dark. Instead, all eyes are on Ralph Fiennes as Voldemort who really gets material to sink his teeth into this time. Then there's the even bigger possibility of Alan Rickman as Severus Snape whose story came to an emotional revelation. These two supporting actors have the best shot at nominations.
I'm really pulling for Alan Rickman. He's a great actor who really hasn't gotten his due. A nomination for his decade-long portrayal of Snape would be most warranted, especially considering the weight of the twist experienced in this final film which serves as its very best moment. Without Rickman there, it would've made much less of an impact.
And finally, what about the top nomination? With the Academy's strange new rules with Best Picture, I could honestly see "Part 2" making the ballot in voters' 9th or 10th slots if it gets that far. With this I could make a far stretch and say Best Editing is possible along with even Best Adapted Screenplay.
That being said, it's only July. There is a lot of competition headed this fall, but one can only hope that "Harry Potter and the Deathly Hallows: Part 2" doesn't go completely unnoticed.