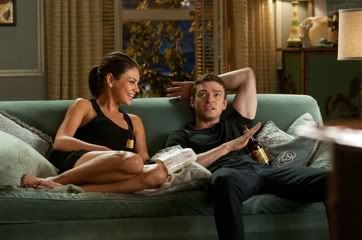 "Friends With Benefits" (2011)
This year has brought us two romantic comedies with exactly the same premise. First there was "No Strings Attached" about two friends agreeing to have sex without a relationship. Now we have "Friends With Benefits" about two friends agreeing to have sex without a relationship. So, who wins? From director Will Gluck (who directed last year's breakout comedy hit "Easy A"), the latter is the clear victor thanks to good casting, good writing, good direction and great sex.
Will Gluck might just be on to something. First with the glowing Emma Stone in "Easy A" and now this, he really has a way with getting actors to perform at their comedic best. Romantic comedies are all about the chemistry, and Justin Timberlake and Mila Kunis sure have it. They fit together and spar perfectly with each other in quick bursts of playful, sexy energy. Both of these talented actors have showed us their funny and serious sides--Timberlake stealing the show when he hosted "SNL" and his effective performance in "The Social Network" while Kunis made a splash in "Forgetting Sarah Marshall" and stood her ground against Portman in "Black Swan." Here they take what they've got and bring it together on screen in a sizzling display of wit, charm and sex appeal.
Timberlake plays Dylan, the dapper head of a small blog site in Los Angeles who gets whisked off to New York City for a job interview with GQ magazine. He's brought there by an executive headhunter named Jamie played by Kunis. With two attractive, well-dressed leads it only makes sense to make their romantic playground two big glamorous cities. Jamie spends the evening after Dylan's interview showing him around the city to convince him to take the art director position. Of course he accepts, and through time in the office and a few lunches and dinners out as well as getting drunk in Jamie's apartment on a few occasions...you know where this is all headed.
Dylan figures he's too emotionally unavailable while Jamie figures she's too emotionally damaged. They're not looking for a relationship and require only the physical act of sex, so they agree to give it a try. What follows is a romp under the sheets where we don't see what's going on but we can certainly infer. They rattle off a running list of the things they like and don't like in bed while doing the deed. Their casual sex is humorously awkward while sufficiently steamy -- with the sheets conveniently placed but also still showing enough skin -- and provides some of the movie's best moments of rapid-fire banter.
It's no spoiler saying that we know who ends up together in the end. No romantic comedy would give us these two individuals connecting on such a level and then tear them apart at the end. Doing that would just be criminal. The movie doesn't stray far from the conventions of the genre, but they're put to use in the best manner I can recall from recent memory. The added fun is that Dylan and Jamie believe they're too hip to fall for love movie clichés in their own life. While consciously avoiding them, the movie steers them directly toward each other and, as a result, those very clichés. But I didn't mind because the romantic comedy formula will never change. The breath of fresh air here is that Dylan and Jamie aren't treated with condescension toward their situation but instead realism and cynicism as presented in their characters--with a dash of updated and timely humor about iPad apps and Youtube.
All of that is fine and well, but things really get kicked up to a new emotional level when the parents are introduced. The always excellent Richard Jenkins as Dylan's father suffering from Alzheimer's and Patricia Clarkson as Jamie's free spirit mother show up as the loving but imperfect parents who give us clues as to why both of our leads are so afraid to commit. And you can't forget the brief but hysterical cameo from Emma Stone as Dylan's crazy ex-girlfriend at the movie's opening who's a huge fan of John "Fucking" Mayer.