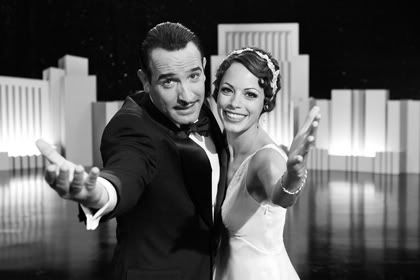 It looks like we have arrived at our award front-runners. With the announcement of the 17th Annual Critics' Choice Movie Award nominations, it appears "Hugo" and "The Artist" will be continually gaining momentum as further nominations come along. They led the pack of nominees with 11 each.
These nominations could resemble the Best Picture nominees at this year's Oscars granted if there are still 10 slots. The slots could be dwindled down to as little as five, and if that happens it'll be interesting to guess which films make the cut. The films the Broadcast Film Critics Assocation included for Best Picture were "The Artist," "The Descendants," "Drive," "Extremely Loud & Incredibly Close," "The Help," "Hugo," "Midnight in Paris," "Moneyball," "The Tree of Life" and "War Horse."
In my opinion this looks about right -- if ten are to be included. Stephen Daldry's "Extremely Loud & Incredibly Close" hasn't been getting any acknowledgement until now. David Fincher's "The Girl with the Dragon Tattoo," however, got left off aside from Best Score and Best Editing.
Daldry also received a Best Director nod alongside Michel Hazanavicius for "The Artist," Nicolas Winding Refn for "Drive," Martin Scorsese for "Hugo" and Steven Spielberg for "War Horse."
In terms of the acting categories, we're beginning to see some usual suspects show up.
George Clooney for "The Descendants" and Jean Dujardin for "The Artist" are now locks for Best Actor nominees. Joining them were Leonardo DiCaprio for "J. Edgar" who actually hasn't been getting as much attention, Michael Fassbender for "Shame," Ryan Gosling for "Drive" and Brad Pitt's performance in "Moneyball" won out over "The Tree of Life."
Viola Davis for "The Help," Michelle Williams for "My Week with Marilyn" and Meryl Streep for "The Iron Lady" could be considered locks for the Best Actress category as they're both nominated here and have been getting much acknowledgement within critic circles. With them are Elizabeth Olsen for "Martha Marcy May Marlene," Tilda Swinton for "We Need to Talk About Kevin" and Charlize Theron for "Young Adult."
Albert Brooks is full steam ahead as the front-runner and likely winner for Best Supporting Actor for his maniacal turn in "Drive." Nominated with him are Christopher Plummer for "Beginners," another nomination lock, Kenneth Branagh for "My Week with Marilyn," Nick Nolte for "The Warrior," Patton Oswalt for "Young Adult" and, yes, it has happened -- Andy Serkis for "Rise of the Planet of the Apes." It'll be interesting to see if the pull for his nomination will be enough to carry him to the Academy.
In the category of Best Supporting Actress, Shailene Woodley is a lock for "The Descendants" in future nominations along with Octavia Spencer for "The Help" and Berenice Bejo for "The Artist." With them here are nominations for Carey Mulligan in "Shame" and, as a pleasant surprise, Melissa McCarthy for "Bridesmaids."
Other notable nominations include a very worthy three Best Song nominations for "The Muppets." Among the Best Animated Feature nominees, "Rango" is the only one in 2D and -- much to my enjoyment -- is the likely candidate to win in the category. "Harry Potter and the Deathly Hallows: Part 2" got mostly snubbed with nominations in only Best Visual Effects, Sound, Makeup and Art Direction.
It's also funny to note that "The Ides of March" got completely left out except for a completely out of left field Best Ensemble nomination.
Another question: how is "Drive" considered a nominee for Best Action Movie -- a worthy film, yes, but it already received a spot in the Best Picture nominees -- but "Harry Potter and the Deathly Hallows: Part 2" is not?
Check out the full list of nominations, and tune in to the 17th Annual Critics' Choice Movie Awards on Thursday, January 12 at 8 p.m. on VH1.