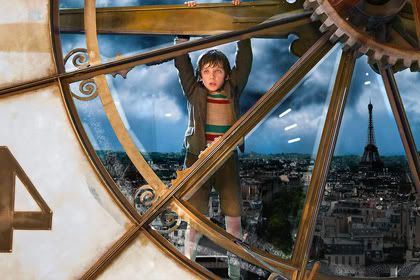 Martin Scorsese has given us the best-looking live action 3-D movie of this generation comparable to the prowess of James Cameron's "Avatar." Scorsese knows how to properly take advantage of the technology, and if nothing else his newest film -- the greatest departure from anything else he's made before -- demonstrates how to use 3-D to its utmost potential. The film is packed with bouts of visual trickery and flourishes that astound. In a most breathtaking opening sequence, we're shown the life of Hugo Cabret (Asa Butterfield) who lives among the ticking clockwork and mechanisms within the walls of an elaborate 1930s Parisian train station. The swirling, intricate panoramic views and angles of the train station are just a taste of this magical world Scorsese constructs.
Hugo's life at the train station is made difficult by a cranky toy shop owner (Ben Kingsley) and the limping train station inspector (Sacha Baron Cohen) who's always chasing Hugo through crowds of travelers. Hugo is an orphan forced to live off thievery as he scurries around hiding himself in a maze of ladders and walkways winding all the clocks making sure they run exactly on time. Hugo bases his life around machinery and making sure things are fixed and working right. His labor of love is an old automaton found by his father (Jude Law), seen in flashbacks. If fixed properly, the automaton should be able to write a message -- one that Hugo is convinced his father left for him. He's a genius when it comes to finding all the right screws and gears for the project, but there's one puzzle piece left. It's a key hole in the shape of a heart, and Hugo's journey takes him to find that heart-shaped key to fit the lock.
Along the way Hugo meets a young girl his age, Isabelle (Chloe Grace Moretz), who has an appetite for adventure. Together they show each other their secret worlds. His, the inner-workings of the train station clock tower, and hers, the many books within the catacombs of a library she explores. As much as Isabelle craves adventure, Hugo discovers she has never been to the movie theater -- the era's best option for getting lost in a new world.

Them sneaking in to see a movie begins the film's second half, which is an obvious and lavish celebration of the birth of film.
The cranky toy shop owner turns out

to be George
Méliès
, a pioneer French filmmaker at the dawn of the 20th century. He also turns out to be Isabelle's godfather. Such knowledge leads Hugo on a path to more self-discovery than he could've imagined. Serendipitous links aplenty, even Hugo's father described the first movie he saw as a rocket poking the Man in the Moon in the eye -- a scene from none other than
Méliès' "A Trip to the Moon" (1908).
The wizardry and wonderment of the film's second act distracts from a threadbare thin plot, but it's easily forgiven. In the greatest sense, there's more to "Hugo." It's less about plot and more about getting that certain fuzzy feeling, a feeling Scorsese must love -- of sitting in a dark theater and getting caught up in a dream.
Rich film history is embedded in everything Scorsese makes, and here he dramatizes his personal connection with the medium. Paralleling his own character's passion, Scorsese is a master of artistic mechanisms rekindling our love for the marvels of movie technology both old and new. The director hasn't exactly made a movie for children. Even more impressive, he has made a ravishing movie for adults without coarse language, sex or violence earning a PG-rating full of childhood innocence without pandering. For audiences this is an enchanting and moving look into childhood longing and exploration, and for cinephiles this is something even more: an array of cinematic pleasures and a not-so-subtle plea for the preservation of cinema's past. And to think this message arrives to us in 3-D. If the technology has any future, here it is endorsed fully -- and expertly executed -- by Scorsese himself.