Summer Hours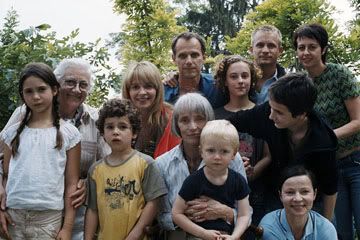 "Summer Hours" is a luscious and lovely French drama. It is a soft-spoken and subtle meditation on life, loss, the conundrum of getting older and the traces of what we leave behind. Writer-director Olivier Assayas crafts this modestly-sized film with such articulate detail that every single conversation and important moment hold deeper meanings than what's presented on the surface. Here is a film that doesn't give you a simple answer; audiences are forced to search out their own answer and conclusion, and, sometimes, these are the best kinds of films. With a touch of humor and heartbreak, this movie haunts and lingers with its implications on the passing of time and generational ties.
A mother, Helene (Edith Scob), has her 75th birthday, and her children, with their children, all come to visit her. The conversations quickly turn to how far they had to travel to come visit her and about their jobs that take them overseas with ever-changing schedules. Adrienne (Juliette Binoche) lives in New York with her boyfriend (Kyle Eastwood) and works for a company based in Tokyo designing contemporary flatware. Jérémie (Jérémie Renier) lives with his wife and kids and has a job that forces him to commute to China. The only one left is the eldest of the three, Frédéric (Charles Berling), who Helene pulls aside to discuss her passing. She lives in a house full of valuable art such as furniture, paintings, table sets and statues. With Frédéric she discusses what will happen to her estate when she is gone and, with it, all the memories of her uncle of whom she was very fond. As much as Helene is aware that her children rarely come visit her due to their busy lives, she knows this and accepts this, and in her own way, she lives among the objects and the memories associated with them in her home. Her children live their own lives, and she has given up on taking an interest in them.
The film is full of adults having intellectual conversations. The three children of Helene discuss what to do with the memories and possessions of their mother because, yes, she passes away shortly after their visit. The process is tedious with the details all being fleshed out thoroughly and completely, and we as viewers end up feeling like we're living it with these characters. The house acts as the center of the family. It's what brings the family together, and it's heartbreaking to watch them have to tear it apart. While Frédéric assumed that his siblings would have wanted to keep the estate within the family, unknown to him, their plans have changed. Adrienne announces an engagement with her boyfriend, which means she'll rarely be returning to France, and Jérémie announces a permanent job in China, which means he'll be living there. Frédéric is last to know, and so, they decide to sell Helene's home and all the valuables inside.
The film's emotional power sneaks up on you, and it's thanks to the way each element builds onto itself. It's a movie that doesn't tell you how to feel about all of the themes with which it deals, but rather, it lays everything out on the table and lets you decide how to feel. The beginning of "Summer Hours" and its end have fascinating parallels between them in terms of youth. Is there a loss of innocence, or preservation of the past? And what does it mean for memories to be preserved? See this film, and then decide for yourself.