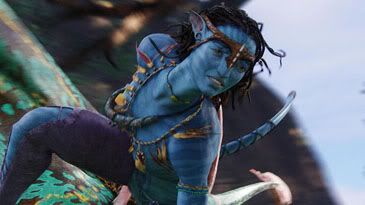 Well, it's happened. "Avatar" has just surpassed "Titanic" at the international box office with $1.29 billion.
And on the domestic list, it won't be too long before "Avatar" also defeats the record for "Titanic" at $600.8 million.
Way to go, James Cameron, just cruising right along and outdoing not someone else, but rather, yourself. Wow. He has just claimed the crown of the top-grossing director on planet Earth. Too bad his head appears to be stuck in Pandora. Speaking the Na'vi language during an acceptance speech? Really?
It needs to stop. Please, please let some popular movie be released in the coming weeks that'll knock "Avatar" off its high horse for good. It's been number one for the sixth weekend in a row. That's quite enough.
I'll say it again: I love "Avatar," I truly do. But not this much. Stop seeing it, people. Please.
C'mon, James, let your ex-wife have some glory. The countdown to the Oscar nominations has begun. One more week.