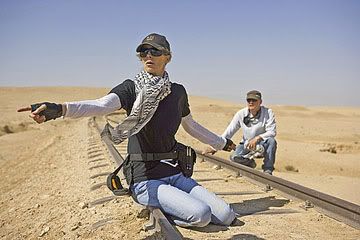 I love "Avatar," I really do. I think it is an amazing achievement in film, a changing moment in the way we look at films. I knew the HFPA wasn't going to pass it up. Now I'm going to explain why I think the Academy should and will.
I think Roger Ebert said it best in his Twitter:
"Yes, I love Avatar. Still do. But not for Best Picture. Hurt Locker, I'd say. Up in the Air. A film, not a phenomenon."
The HFPA will nominate and award a phenomenon, it's what they like to do. They did it last year with Danny Boyle and "Slumdog Millionaire," and they did it again this year with James Cameron and "Avatar." It was a sensation, a celebration of success and being in the moment.
By the time the nominations for the Academy Awards are released, and especially by the time there's voting, "Avatar" will finally start to lose some steam. There'll be many weekends between now and then where, yes, believe it or not, "Avatar" will not be number one at the box office. It's become almost commonplace now, and speaking of which, whichever movie does end up bumping it down to the number two spot is going to have quite the honor on its back.
In any case, the hype will have lessened by then, and things will start cooling down for "Avatar."
Kathryn Bigelow, I repeat, Kathryn Bigelow will not be ignored by the Academy. It's simply impossible at this point. She has churned out the best movie ever made about the war in Iraq, one of the best war movies ever made, and one of the best of the entire decade. She will also be the first woman director to win the award for Best Director if she does so happen to win. She will. This is my prediction.
Likewise, her film, "The Hurt Locker," I'm predicting will win for Best Picture. Yes, I personally believe "Up in the Air" was the best of the year, but timeliness isn't everything. "The Hurt Locker" is simply the best reviewed movie of the year.
The Academy seems to fit a pattern of switching back and forth between phases of awarding what's more sophisticated and what's more popular. Considering they followed the Golden Globes last year with "Slumdog Millionaire," I have a hunch that they're going to switch it up and skip "Avatar."
Why? The Oscars have categories for films like "Avatar" that the Golden Globes don't have. Editing, cinematography, visual effects, sound editing, they're all there, and "Avatar" can still win plenty.
Save Best Director and Best Picture for "The Hurt Locker."