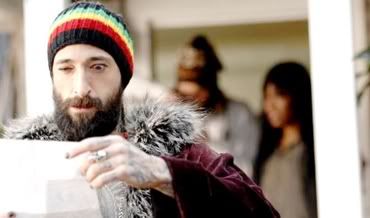 EIFF Premiere: "HIGH School" (2010)
Being the first film I've seen so far at the festival to have applause from the audience at the end, John Stalberg's debut, "HIGH School," has the makings of something that could be quite big in the U.S. as it was already an official selection at this year's Sundance Film Festival. It's not the best film at this festival I've seen, but it's definitely the most satisfying in terms of conventional entertainment.
It certainly has the star power starting with Adrien Brody (who can be currently seen in "Splice") giving an amazingly comedic turn as the whacked-out drug lord named Psycho Ed. You'd barely recognize him at first glance with his body covered in tattoos, a braided beard, a huge fur jacket and wildly blood-shot red eyes. Michael Chiklis who's most known for his dramatic work on the TV series "The Shield" also gives a knock-out funny portrayal of a strict but completely bonkers high school principal whose voice and smile alone make you chuckle. These two actors alone make this a comedy worth seeing. Colin Hanks stars, as well, and is equally rambunctious but to a lesser extent.
"It's high school," says Henry Burke (Matt Bush), the school's front-runner for valedictorian to his love-hate stoner buddy, Travis Breaux (Sean Marquette). "Every day's weird." This one day in particular at Madison High School is not only weird but a day where the entire student body and staff are stoned. In the wake of Henry trying weed for the very first time with Beaux, a school-wide random drug test is announced. Worried about flunking out for good, the two buddies concoct a plan to make it impossible to expel everybody.
In the way the two young leads childishly interact with each other, the most obvious influence comes from the two leads in "Superbad." Matt Bush had a minor role in "Adventureland" alongside Jesse Eisenberg, but here he takes center stage effortlessly. He and Sean Marquette make for a fine pairing and may be the announcement of some new young talent in comedy.
The movie is oftentimes laugh-out-loud funny with its goofball humor. There are numerous great moments like the journey into Psycho Ed's foreboding lair and when Henry attempts to give a failing oral presentation but passes with flying colors. And, best of all, it all is just as memorably quotable as last summer's "The Hangover." It may not be the best representation of a modern day high school you'll ever see on screen, but "HIGH School" is rather spot-on for a quirky stoner flick, a fun screwball teen comedy and the introduction of a potential growing talent in filmmaking.