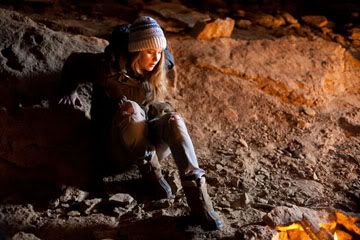 So arrives the end of the 2010 Edinburgh International Film Festival. As my first-ever experience of attending a film festival, I have to say I quite enjoyed it although setting my expectations maybe a bit to high I felt a bit underwhelmed. Unless I just wasn't catching the right films, I never found myself thinking, "Ah yes, here's this year's 'The Hurt Locker.'" To think that Kathryn Bigelow's Oscar-winner had its world premiere at EIFF last year! Amazing. Nonetheless, I'm happy I got to see some of the great films I did. Below is a breakdown of the 20 films I reviewed and their respective star-ratings, and below the break is a wrap-up of the most note-worthy ones to keep in mind for later in the year when some of these start getting more distribution in the U.S. along with my Top 5 list from the festival.
4 Stars
The Illusionist
Winter's Bone
My Words, My Lies - My Love
Get Low
3 1/2 Stars
Son of Babylon
Pelican Blood
SoulBoy
Jackboots on Whitehall
The Extra Man
The People vs. George Lucas
3 Stars
Skeletons
Fog
Snowman's Land
HIGH School
2 1/2 Stars
Nénette
The Rebound
Third Star
2 Stars
Cherry Tree Lane
My Son, My Son, What Have Ye Done?
1 1/2 Stars
None
1 Star
Outcast
1/2 Star
None
It's safe to say that "Winter's Bone" should be watched as an award contender because it's already getting some limited release in the U.S. and rave reviews from critics. I could see this one getting remembered even through to Oscar season. It's that good.
"Get Low" will be in limited release on July 30th in the U.S. and will be most notably remembered for Robert Duvall's powerful performance. Oscar nomination? Depends on what else happens later in the year, but it's definitely a possibility.
"The Extra Man" also gets a July 30th limited release, and I could see it eventually making a wide release perhaps capturing the Wes Anderson audience. As for awards, as much as I'd like to see Kevin Kline get recognized, it's unlikely.
I can see "The Illusionist" getting nominated for Best Animated Feature up against the likes of "How to Train Your Dragon" and "Toy Story 3." Not sure how wide the release on that one will get, though. Or maybe it's too connected to a Scotland culture for U.S. audiences to care. Only time will tell.
"My Son, My Son, What Have Ye Done?" is already make it around the arts circuit in the U.S. I can only see this one sneaking into some independent theaters.
As much as "The Rebound" could be something for wide U.S. audiences to mindlessly consume, it looks like Brett Freundlich's movies have bad luck making distribution in the U.S. His 2005's "Trust the Man" didn't go anywhere.
"Jackboots on Whitehall" could maybe hit some independent theaters in the U.S. if it's lucky, but I'm not feeling a wide release for this one. It's just too embedded in British culture and humor.
One of the biggest stories of the festival I think, is the potential for distribution that "HIGH School" holds. I'd really, really like to see it make wide release and be a sleeper comedy sensation. We can only cross our fingers and hope.
EIFF 2010 Top Five:1.
Winter's Bone
2.
The Illusionist
3.
Get Low
4.
The Extra Man
5.
Jackboots on Whitehall